Trans-ing religion: Is religion inclusive to the transgender community?
By Molly Wampler
Max Strassfeld earned his PhD in religion from Stanford University and is now a professor of rabbinics, the study of traditional Jewish law and literature. He spoke on campus last Thursday, Feb. 23 answering the question, "What happens when religion is constituted as hostile to trans bodies?" As a transmasculine student of Judaism, an association potentially viewed as contradictory, Strassfeld spoke about trans experiences in conservative and orthodox Jewish communities, and more broadly, about the intersection of religion and trans identities.
Strassfeld acknowledged the commonly-held belief that many religions (he cited Judaism and Christianity specifically) are inherently transphobic, with their cisgendered roots ('cis' meaning one whose gender identity matches the gender assigned to them at birth) tracing back to the book of Genesis and the story of Adam and Eve.
At the same time, Strassfeld also presented examples of the clash of religion and trans identities to question the idea that many religions are inherently anti-trans. "In drawing our attention to these specific incidents, I want to highlight the work that goes into producing religion as transphobic, and to disrupt the idea that religion is naturally hostile to transbodies and trans lives," Strassfeld said.
He even suggested that religion can be very trans-inclusionary, depending on interpretation. In other words, there seems to be no reason why we must rely on a limited set of interpretive mechanisms of religion, which produce the same transphobic outputs.
The first example he used to challenge this notion was the coming-out story of Joy Ladin, an English professor at the Orthodox Jewish Yeshiva University, and the media's subsequent reaction. When Ladin came out as the first trans professor at Yeshiva, she immediately became the punchline of many news stories. One specifically mentioned by Strassfeld was an article published by the Washington Post which used the play-on-words "YeSHEva" in the headline. (Note: The Trail could not locate this article online.)
"'YeSHEva' renders Orthodox Judaism and trans as mutually exclusive terms," Strassfeld said. "The 'she'that disruptively breaks up the word relies implicitly on the stereotype of Judaism as misogynistic, and by extension, transphobic."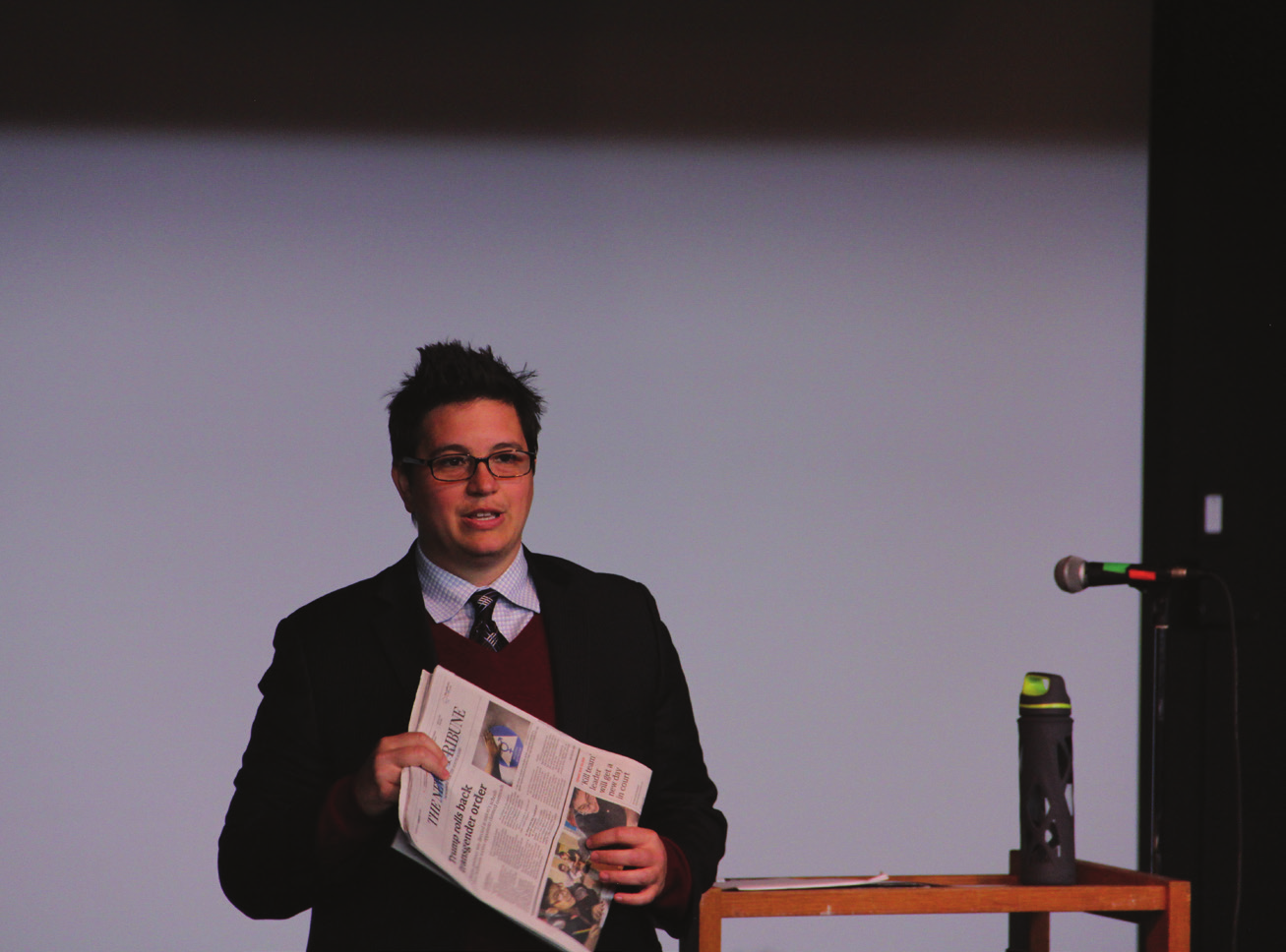 Strassfeld explains that there are certain assumptions about trans identities and religion when the two ideas are combined into one word, like the news did with 'YeSHEva.' These assumptions are that "the baseline of religion is hostile to trans people, trans subjects are non-normative religious subjects, [and] religion has the power to choose to omit trans people or not."
Strassfeld also cited an excerpt from Joy Ladin's forthcoming book "The Genesis of Gender: Trans Theology and the Definition of Humanity," in which she questions the idea of gender being relevant to religio nat all, since, in Judaism, human beings are created in the image of a bodiless God. "To me, whether or not we are transgender, we engage in trans theology whenever we try to look past sex and gender, bodies and binaries, to understand what in humanity reflects the image of God," she writes.
Joy Ladin's story brings Strassfeld to the second example of the intersection of religion and trans identities: Strassfeld's analysis of recent bathroom bills, (or "anti-trans bills" as he calls them) dictating which restroom individuals are to use based on their sex assigned at birth. "In discussing Mississippi [House Bill 1523] today, I am not just interested in rehearsing the all-too-familiar ways in which religion can be hostile to trans people. As some activities have noted, starting from this premise naturalized the conflict," Strassfeld said.
He first discussed how — in part by defining marriage laws as heterosexual and dismissing gender identity as different than that assigned at birth – this bill favors one religion, violating the first amendment. However, the bill remains relevant because of how it treats morality in terms of religion. "Rhetorically, by conflating conscience, morality and religion, those that oppose the bill lack morality and conscience," Strassfeld said. "In the opposition between trans and religion, therefore, transbodies are verging on becoming inherently immoral or irreligious bodies."
"In other words," he explains, "it is a scientific/religious belief that transsexuals cannot exist."
But this anti-trans reading is only one of many conclusions that can be made based on the baseline religious texts and traditions of any religion. Joy Ladin's idea of our bodies as created in the image of a bodiless Creator challenges these assumptions. "If we were to investigate the cisgendering of religion," Strassfeld asks, "what new contours of religion would be revealed?"
He also cites a lecture by Ryka Aoki, an author and professor, who suggests other conclusions that can be made form studying the foudnations of religion. "Somewhere between the 'and t"hen there was light' and 'yo, don't eat pork, and go circumcise yourselves' was the man and woman thing," Aoki said.
Aoki points out the contradiction with the known distinction (but expected congruency) between sex and gender. "male and female happen, but … why did God make man and woman, [and] why did God make sex and gender anyway?"
In providing these alternate explanations of religion, Strassfeld questions the institution of religion, which maps itself onto an individual's life — trans or cis, religious or not — through social and legal mandates. "If we do not [study religion from a trans perspective]," Strassfeld concludes, "we remain complicit in the logic that diminishes the possibility of how we understand both trans and religion."