Loggers baseball opens up conference play
By Tayla MacPherson
The University of Puget Sound men's baseball team competed in their first conference games this past weekend, Feb. 17-19. The team played against the Loggers cross-town rivals, Pacific Lutheran University (PLU).
Previously, the team played six preseason games. The first four games were in Southern California against Pomona-Pitzer College (California) and Whittier College (California). In addition to three games against conference peers such as Whitworth University (Washington), Willamette University (Oregon) and Lewis & Clark College (Oregon). The baseball team finished their preseason with three wins and four losses.
The Loggers opened the weekend by beating the PLU Lutes 5-3, but lost the two following games 16-3, and 1-0. Unfortunately, due to weather conditions, the second game of the weekend was moved to the Lutes' home field, giving them the home-field advantage during the second game. Senior Ryan Darrow (Bellevue, Washington) discusses the learning points from the past weekend.
"Our weekend against PLU showed us that if we play with a high level of intensity, we can compete with any team in the conference. We had a tough loss on Sunday (1-0), but that game taught us that clean defense and efficient pitching will hold our opponent to limited runs scored and give us a chance to win," Darrow said.
The team is made up of 17 upperclassmen and 25 underclassmen, meaning the team has a greater younger population, forcing some of the underclassmen to step up earlier than in most college baseball scenarios. Junior Josh Zavisubin (Bellingham, Washington) states his frustrations with the lack of consistency throughout the beginning of their season.
"Our season has gotten off to an inconsistent start. We have looked great a couple times, looked average a couple times, and looked awful a couple times. That kind of start was somewhat anticipated with the amount of [first-year students] we are relying on to play big roles. As we move forward we will hopefully gain more consistency and play great more frequently," Zavisubin said.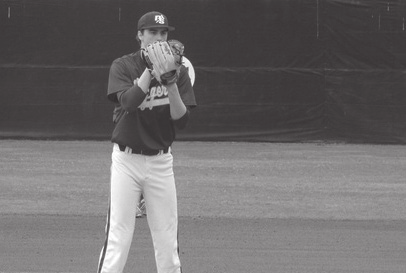 Although the team is young, they have immense chemistry that is continuing to grow as the season progresses. Encompassing team culture is essential for a program to succeed. Darrow believes if the level of play continues their squad can thrive this season.
"We are a focused group that always encourages each other and holds on another to a high standard. But we do not let that take away from the fun of the game. The young players on this team continue to bring a lot of energy, which is great to see," Darrow said.
The team hopes to identify their mistakes from the past weekend and continue to make improvements continuing into this weekend's games and other games to come.
Junior David Follett (Billings, Montana) has high hopes for the squad winning conference.
"We hope to compete for a NWC title, and continue to grow every game and weekend. We have a lot of young talent, and it will take a complete team effort to earn a spot in the playoffs at the end of the year," Follett said.
The team split the two games Claremont-Mudd-Scripps Colleges (California) on Feb. 25-26 in California. This leaves them at 5-7 (1-2 in the NWC). The Loggers will go on the road to play Lewis & Clark for a three game series on March 4-5.