New Pinspiration Market Brings All Your DIY Dreams To Life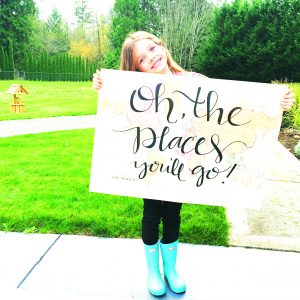 By Anya Otterson
Anyone and everyone who has ever scrolled through Pinterest and daydreamed about making the innovative projects that the site boasts will be excited about a new event taking place in Washington. If you're looking for something awesome to do this weekend, look no further than the first-ever Pinspiration Market, which will be held in Puyallup from Feb. 10-11. This massive exposition of handmade and up-cycled goods brings Pinterest to reality and breathes life into the online site with its fresh take on the experience of going to a craft market.  The Pinspiration Market brings together all sorts of crafters under one roof for shoppers to buy products they have seen on sites like Pinterest. At the Washington State Fairgrounds, vendors selling a variety of things — from candles to signs to baked goods — will provide people with the opportunity to see things they have been eyeing online yet have never made or bought until now.
Not only are there tons of creative goods for sale, but there is a wine bar, and complimentary DIY classes are offered on a first-come-first-serve basis, allowing people the chance to participate in a real-life version of the incredibly popular DIY website. These classes include learning how to make aromatherapy bracelets and cork magnets.
Linda Albers of The Funky Junk Sisters is the driving force behind this new craft fair. Having grown up with a thrifty mother and after having an antque store of her own, Albers and her sister decided to take their junk collecting in a different direction. The end result, The Funky Junk Sisters, vintage flea market producers, now has around 100,000 fans online. Discovered on Pinterest, The Funky Junk Sisters even decorate the VIP and artists' area and a stage at Coachella and Stagecoach Festival.
Albers and her sister have now been putting on The Great Junk Hunt, a series of vintage markets down the West Coast for several years.
"It's bursting at the seams," said Albers.
To make the markets more manageable, she decided to create an entirely new one. Using the fanbase she had from The Great Junk Hunt and The Funky Junk Sisters, Albers sent messages to vendors she already had to see if they would be interested in doing the Pinspiration Market.
With information about the market circulating on social media sites such as Facebook and Instagram, and the response Albers has gotten has been overwhelmingly positive.
"Pinterest is such a huge part of so many people's lives. It'll be amazing to see it come to life," she said.
Albers emphasizes that the main goal of the market is to have fun and make the vendors and shoppers happy. Vendors had to submit an application, which Albers then reviewed. The criteria for admission included having an eye-catching display, a product that people would be interested in and showing ways to actually use the product.
Mia Kindle of Mia Nicole Designs is one of the vendors participating in the Puyallup market. Kindle makes home decor ranging from wood signs to maps. She hand-letters her work, giving it a modern rustic look.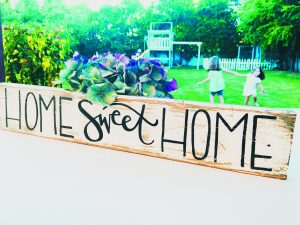 "Art and design has been a passion of mine since I was old enough to pick up a crayon," Kindle said.
After working as a commercial printer and graphic designer, Kindle decided to quit her job to stay at home with her daughters and start her own business. As more and more people began asking for signs, Kindle opened an Etsy shop and has had tremendous success. Upon hearing about the Pinspiration Market on Facebook and attending The Great Junk Hunt, Kindle applied to the market and was accepted. Since then, she has been preparing her inventory and booth for the show.
"I've done a lot of research, made many lists and so many fun hand-lettered pieces to bring with me. Currently, I am working on my booth setup in our garage," Kindle said.
River's Edge Metal Expressions' Kirsten Reinhard has also been working hard at preparing for the Pinspiration Market. In anticipation of the big crowds, she has been building inventory and revamping her display. "It's been busy — a lot of late nights and early mornings," Reinhard said.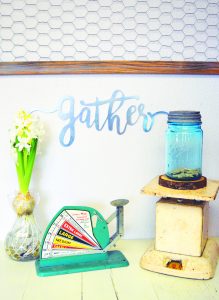 After watching an episode of Fixer Upper and seeing a metal sign on it, Reinhard got software and taught herself to use it. The result was River's Edge Metal Expressions, a crafter of high-quality metal signs for home and garden decor.
"It's been going really well — better than I could ever have imagined," Reinhard said.
To make the pieces. Reinhard designs them on a computer and then uses the laser in her and her husbands' metal shop to carve the designs on a full sheet of metal. Someone mentioned to Reinhard that the Pinspiration Market was coming up and could be a cool outlet for her work while she was at another market. She was eager to do it, as she has had good experiences with craft markets and has found that it is nice for people to see her products in person rather than online.
Her work at this market with features rusted pieces and cutouts mounted to wood, a slightly different take from her regular designs.
Tickets for the Puyallup Pinspiration Market are available at the door both Friday and Saturday. Friday's $15 ticket will get you in for both days and give you access to early bird shopping, while Saturday's $7 ticket will get you in for regular shopping. If you miss the Pinspiration Market this weekend, not to worry — there will be another one held in Ridgefield, WA on Oct. 14. Early bird tickets are sold online at pinspirationmarket.com and general admission tickets are sold at the door.
Photos 1-2 credit to Mia Kindle
Photo 3 credit to Kirsten Rienhard