From Tennessee to Tacoma, Dagne Gorham kills it
By Emily Rostek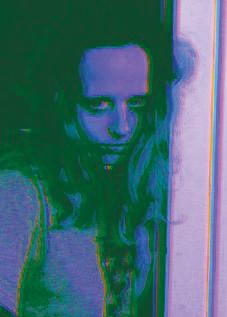 Dagne Gorham wears silver sequined high-tops every day. Despite her bright shoes, the rest of her daily ensemble overshadows what otherwise would be seen as an eccentric choice. Her pink hair sits on her shoulders in French braids or in a high ponytail and she occasionally sports wings of sparkles around her eyes. Paired with a t-shirt representing a local music group, Gorham has another important feature: she is the frontwoman of her very own band.
"I started playing music probably like, officially in third grade when I started taking piano lessons. I think I've always been doing musical stuff … but yeah, that's when I first took, like, classified lessons," Gorham said. From a young age, Gorham's passion has been deeply entrenched in music, but as I spoke with her it became clear that her true love is writing. She has been composing music since she was in middle school and her content has since strayed from writing about teenage angst to more perplexing themes like love, heartbreak and growth.
Gorham was born in Cambridge, Minnesota and lived there all her life with two younger siblings. She started playing music at a young age, but her first recreational band was in high school with her younger brother and her friend Jenna. They called themselves Eye Candy and played covers of bands like the Arctic Monkeys, the Black Keys and The Who. Gorham said, "We wanted to get to that point where we wanted to write our own music but we didn't quite get there. We competed in the high school battle of the bands but we got screwed over by a stupid metal cover band, but that was pretty much the end of that." Gorham shifted back and forth as we spoke outside Oppenheimer Café, her silver converse glistening in the brief moments of Tacoma's sunlight.
Since Gorham's stint in battle of the bands, she has grown immensely. She came to the University of Puget Sound in the fall of 2013 and was immediately involved with KUPS 90.1 The Sound. Gorham quickly made connections with other Puget Sound students, most notably her current bandmate Daniel Cohn. Cohn graduated in 2016 and now lives in Seattle.
After two semesters at Puget Sound, Gorham made a change. In 2014, she spent six months at Blackbird Academy in Nashville, Tennessee studying audio engineering. The Blackbird Academy is run by John McBride, country singer Martina McBride's husband. It was founded by the couple in 2002 and has recorded many artists such as Kings of Leon and The Black Keys. Gorham said, "[At Blackbird Academy] it's equal parts learning how to record and then recording. They let the students come in and record real bands every other week, so like a week you're in the classroom on the computer using Pro Tools [an audio engineering software] and then the next week you're using those skills in the real studio. It's really applying what you've learned."
Gorham explained the highs and lows of her time at the Blackbird Academy and she seemed especially proud of one thing: breaking through audio engineering as a woman in a male-dominated field. She said, "[Audio engineering] is an intimidating field even though it's knowledge that anyone can have. They make it to be this mysterious 'you can't learn technical stuff if you're a woman' [but] it's really just the terminology and once you learn that they're just easy concepts that anyone can learn. It's not just like a guy thing. You don't have to be a guy to be in the studio." After studying in Tennessee for six months, Gorham has grown as a musician and as a person. She attributes her growth to her immersion at the Academy, where she spent almost every day in the studio fiddling with Pro Tools and making sure each recording was just right.
"I'm not scared of the studio climate anymore after being there. I was afraid for a while and I wasn't confident at all," Gorham said, "but now it's like I feel confident about being in this 'boys club' and I don't let it faze me. I'm not psyched out about it anymore. This is just what
is, you know? [Blackbird Academy] has helped a lot."
Gorham came back to the University of Puget Sound in Spring 2016 and reconnected with her friend Daniel Cohn she met during her stint at KUPS. Since meeting Gorham, Cohn founded Youth Riot Records, a record label based in Tacoma. Cohn helped Gorham move back into the Tacoma music scene and together, they formed a band.
"We got together just this fall. I play rhythm guitar and sing and Daniel [Cohn] plays bass," Gorham said. Accompanying Gorham and Cohn are two other Puget Sound alumni, Bella Wong and Spencer Johndrew. Wong plays drums and Johndrew plays lead guitar.
The band is rightly called Dagne Gorham as most of the songs played are written by Gorham herself. She said, "We primarily started playing just my music. They learned my songs with me … so that was super nice. It's so nice to have people want to play your music — especially when it's your songs. We'll jam to covers but right now we're just performing my music." Gorham grinned and blushed, excitedly talking about her music as she tugged on her pink braids.
Gorham's writing has improved significantly since her days in Eye Candy, but it is especially clear on her EP Everywhere and All at Once (2017). The four songs on the EP are each named after a place.
"Everywhere and All at Once features four songs that I wrote in the four different places I lived in the U.S. from 2013 to now: Tacoma, WA; Nashville, TN; New York, NY; and Cambridge, MN. Each song tells a story of an experience I had per place, but yet also have common threads that intertwine, regardless of each story's separation of location." Gorham's music is mature yet relatable, melodic and honest. In total, Gorham has released four EPs in the last two years.
"There are so many artists that inspire my writing. But I would say that initially Shana Cleaveland and her band La Luz have really inspired me to focus on my music because she's just always doing that and always finding a way." Gorham also listed Angel Olsen, Young Rival, Arctic Monkeys' earlier work and classics like The Beatles as primary inspirations for her writing.
"Hearing the Beatles for the first time was an amazing experience," Gorham said. She also admires King Gizzard for their commitment to creating. "They're constantly on tour and making a life out of it and that's what I want to do. Because you can make it if you're always creating."
Gorham wants to do just that. She writes consistently and practices often. Her confidence is both obvious and contagious on and off stage. This semester, her band has played gigs at Real Art and Bob's Java Jive and they are ever-evolving.
She said, "I want to do this full time and I want to make a full-length. I hope to stay with [my current bandmates] and evolve as a band, but who knows." Gorham has grown as a frontwoman and is continuously becoming more comfortable onstage.
"I've grown into being more confident and secure of myself and before I wasn't really ready and I was nervous. But now I'm like 'no, I'm ready to be in the front.' It's taken awhile to get here so I'm really happy to be here." Gorham's work is available online and can be accessed through the links below. A recent review on her bandcamp website praise, "The jangly, melodic, and oceanic layers in Dagne's songs sound like she is the musical offspring of Stephen Malkmus and a mermaid. Favorite track: Homme manque."
Dagne Gorham will be playing at the student market on April 28 and at Lumbershoot on May 3.